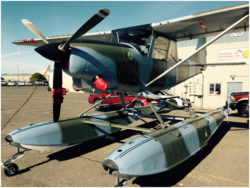 The latest acquisition by the Flight Wing is a significant departure from the other aircraft that now call PCAM home. A turbine-powered seaplane in the form of a SIAI-Marchetti SM-1019 is the most recent addition and one that will turn some heads. This aircraft is not a restoration project in need of countless hours of work. Quite the opposite, it sports modern avionics, a fresh paint job and a recent annual inspection. You can see from the photographs that she's a beauty.
The Marchetti 1019 is fashioned after the Cessna L-19 Birddog and was used by the Italian military as a liaison aircraft with STOL capabilities. It is powered by an Alison 250-B15 turbine engine producing 317 hp.
Even though the Marchetti is ready to fly it will take us a while to learn about the care and feeding of such an airplane. We also need to address pilot training and determine insurance and operating costs. There will need to be some resources identified (both manpower and financial) before we can take to the air.
The unique qualities it brings to the table will provide the Flight Wing members with a unique opportunity to become familiar with turbine engine technology and the aircraft that rely on them.
SIAI-Marchetti SM-1019 General characteristics
Crew: 2
Length: 8.52 m (27 ft 11½ in)
Wingspan: 10.97 m (36 ft 0 in)
Height: 2.86 m (9 ft 4½ in)
Wing area: 16.16 m2 (174 ft2)
Aspect ratio: 7.45
Empty weight: 690 kg (1,521 lb)
Gross weight: 1,450 kg (3,196 lb)
Powerplant: 1 × Allison 250-B17B turboprop engine, 298 kW (400 hp) each
Performance
Maximum speed: 285[4] km/h (177 mph)
Cruising speed: 281[5] km/h (175 mph)
Range: 1,340 km (832 miles)
Endurance: 8 hours 45 min
Service ceiling: 7,620 m (25,000 ft)
We will be creating a dedicated page for this plane in the Aircraft section soon.