F-4C Phantom II History
The workhorse of Vietnam was the F-4 Phantom II. It was used in a number of combat roles.
Very few F-4 squadrons remain. Only in reserve units, like the "Wild Weasels", the F-4 will soon disappear from active service, being replaced by the more agile, faster, and electronically superior F-16s and F/A-18s.
Pacific Coast Air Museum´s F-4 was an Air Force jet. After its service life was over, the jet was assigned to the Sierra Army Depot, on Highway 395, north of Reno. The jet was going to be used as a "crash and burn" victim, being torched for fire fighters to practice putting out aircraft fires. The Army never put one match to it. The aircraft sat for several years, along with a twin F-4, way out in the middle of nowhere on the base. Army officials finally decided to get rid of the aircraft and looked for places to dispose of them.
As fate would have it, two museums got word of the aircraft and applied for acquisition. Pacific Coast Air Museum was one of the museums selected to receive one of the aircraft.
In 1994, crews of Pacific Coast Air Museum members spent many hours on the Army base, in desolate conditions, taking the F-4 apart. It was very hard as the aircraft was built to take a lot of abuse, and was not easy to dismantle.
Slowly, pieces began to arrive, and other crews, as well as the disassembly crews, put it back together, for a permanent home at Sonoma county. The history of the aircraft is being researched.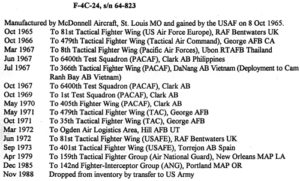 F-4C Phantom II Specifications
Manufacturer
McDonnell-Douglas
b/n or serial number
64-823
type
All-weather multi-role fighter/attack
ownership
Pacific Coast Air Museum
A FAMILY-FRIENDLY PLACE WITH HISTORY YOU CAN TOUCH!
There's always something great going on at the Pacific Coast Air Museum. We have Open Cockpit weekends once a month,  special events throughout the year, and regular hot dog lunches. We host school field trips, special group tours, birthday parties, and family get-togethers, all among our collection of historic aircraft and educational exhibits.
VISIT PCAM