PCAM History – The First Thirty Years (Chapter 3)
by Lynn Hunt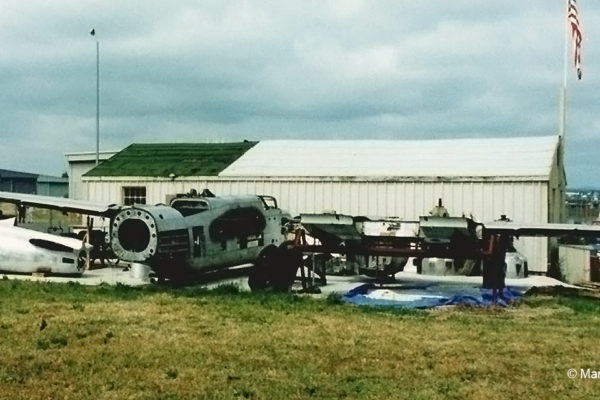 By 1992 PCAM had a home of sorts, at least a building in which we could hold our monthly meetings. We had elected a board of directors, written a set of by-laws, applied for our tax-exempt status and organized our first Open House. We were well along on becoming a museum, but we still didn't have any airplanes. And then things started to happen. We learned that Denny Lynch of Lynch Flying Service in Billings Montana was closing his operation and was selling off all of his aircraft. This included several flying Douglas A-26 Invaders (converted to aerial tankers) and lots of parts. He was having an auction and several of our members were in attendance. As expected, the flying aircraft sold for big money. There was however, a project A-26 lying in pieces out in a field that could be purchased for $40K. At the next board meeting there was discussion about how we might possibly afford to purchase it. We had money in the bank from dues and profits from our Open House but not nearly enough to buy it. Enter once more our life-saver in the form of Russ Etchell. To Russ it was simple. All we needed to do was find ten people who would lend the museum $4K apiece. We were very confident of our ability to pay them all back but it would take some time. Russ started making the rounds and in no time had raised the money. Local trucks were dispatched and soon we had ourselves our first airplane. It would require lots of work but it was unique in many regards and a perfect fit for us. Score our first airplane (project).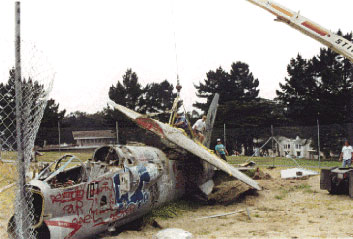 About this same time we received a phone call from the Navy. It seemed that there was a Navy jet on 19th Avenue in San Francisco and the powers that be were wanting it to go away. The Navy told us it was ours for the taking. Being mostly long-term residents of Sonoma County, and having driven many times through San Francisco, we were very familiar with the F8 Crusader sitting in a park. Even so we drove down to take a look at it. It had been rendered a children's plaything years before. The cockpit had been filled with concrete. A large pipe had been placed inside the fuselage for kids to crawl through. It was sitting on its belly in a sand pit with graffiti written all over it. We were soon convinced that it was beyond even our talented restorers' abilities and told the Navy days later when we returned their call. That could have been the end of it except that the Navy called us back a few weeks later hoping we might reconsider. We hadn't. By the time they called a third time, we had. It seemed we were desperate for airplanes and well, how bad could it be? Weeks later we launched a recovery team including cranes and flat-beds to bring it home. Our first discovery was that it was not sitting on its belly. In fact, the landing gear were intact and had been buried in sand. We carefully removed the upper wing, loaded the aircraft and safely transported it to our home at the Charles M. Schulz-Sonoma County Airport.
The Crusader restoration was long and arduous. However, member Carl Thompson was up to the task. And here the Crusader chapter shall end for now save one very important footnote. A short time later our phone rang again and once more it was the Navy and they had something we might want. It seemed that they were eternally grateful for solving the San Francisco Crusader problem and they had more aircraft looking for homes… Like an A6 Intruder, an F-14 Tomcat and an F-16 Viper. AND, they were willing to deliver. But that's yet another story.
A FAMILY-FRIENDLY PLACE WITH HISTORY YOU CAN TOUCH!
There's always something great going on at the Pacific Coast Air Museum. We have Open Cockpit weekends once a month,  special events throughout the year, and regular hot dog lunches. We host school field trips, special group tours, birthday parties, and family get-togethers, all among our collection of historic aircraft and educational exhibits.
VISIT PCAM