Member Meeting February 2019
Wednesday, February 20, 2019 @ 7:00 pm - 9:00 pm -
Frank Schueler: An Inspirational Journey from Nazi Germany to Tragedy to Making the Best of Every Situation
Our monthly Member Meetings typically include updates on important Museum news, a raffle, video presentations, a chance to visit with other Museum members, snacks, and a presentation by a featured speaker. Speakers may include military Veterans, historians, civic leaders, and other people with interesting stories to tell of their historical research or their aviation or military experiences.
February 20, 2019 Guest Speaker: Frank Schueler on An Inspirational Journey from Nazi Germany to Tragedy to Making the Best of Every Situation
After being raised in the late 1930s in an artistic setting by a professional photographer mother (sometimes with anti-Nazi subject matter) and a German Army Officer stepfather, Frank experienced the complete loss of his immediate family in devastating carpet bombings of his hometown of Darmstadt, Germany. But the real story is how he persevered after WWII, worked hard and enjoyed life by connecting to opportunities by the positive terminal only.
The tale and path of his immigration to the US and immediate draft into the Navy was not slowed down by discrimination and unfamiliarity with US ways. This is an inspirational story documented with Frank's mother's portraits, letters, and his own engineer-detailed scrapbooking – with side trips on a bicycle to Italy and a red Porsche to Mexico and a little Bauhaus Art thrown in!
About Frank Schueler
Frank Schueler was born in Darmstadt/Germany in 1933 shortly after Hitler came to power. He was almost six years old when World War II started on September 1, 1939, as Germany invaded Poland. His parents and three sisters were killed in a bombing raid on September 11, 1944, along with about 12,800 people during the almost complete destruction of Darmstadt. He and his stepbrother survived. On Hitler's orders, boys (the future soldiers) were evacuated from population centers. After the war he was placed with some distant relatives. In 1951 he was accepted into an apprenticeship as an electro mechanic. Upon completion he attended engineering school in Frankfurt until he immigrated to the USA in 1955. Within two weeks he started to work for Pacific Telephone in the Los Angeles area. Right away, he was required to register with the draft board (A1 of course). Within two months he received notification that he had been drafted into the US Navy. Over the next nineteen months he served aboard the aircraft carrier USS Essex. 
Air Show Meeting at 6:00 immediately before the Member Meeting
The 2019 Wings Over Wine Country Air Show is being planned!
Each month we have an open Air Show meeting, just before the monthly Member Meeting. We talk about performers, volunteers, staffing, vendors, attractions, and all the other important things that go into an event like this. 
These meetings are your chance to find out what's happening, get a look at the plans, and contribute your own opinions and ideas. We encourage you to attend. 
The Air Show meetings take place at 6:00 p.m. and run through about 6:45 p.m., and are in the same room as the Member Meetings.
Find out more about our Member Meetings.
Date
Wednesday, February 20, 2019
7:00 pm - 9:00 pm
LOCATION
3200 N. Laughlin Road
COST
Free for Members and Guests

UPCOMING EVENTS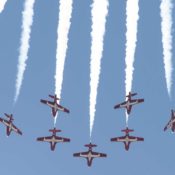 Wednesday, July 17, 2019
Help Plan the 2019 Wings Over Wine Country Air Show!
Wednesday, July 17, 2019
Guest Speakers: Hear from those who attended the June D-Day Commemoration events in France, and from a Veteran D-Day C-47 pilot. At our New Meeting Location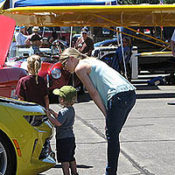 Saturday, July 20, 2019
A Day of Cars, Planes, and Family Fun Saturday July 20