Member Meeting April 2017
C J Stephens on Very High Altitude Reconnaissance - Flying the RB-57F
Our monthly Member Meetings typically include updates on important Museum news, a raffle, video presentations, a chance to visit with other Museum members, snacks, and a presentation by a featured speaker. Speakers may include military Veterans, historians, civic leaders, and other people with interesting stories to tell of their historical research or their aviation or military experiences.
April 19, 2017 Guest Speaker: C J Stephens on Very High Altitude Reconnaissance - Flying the RB-57F
CJ Stevens, PCAM Board President, will share his experiences flying the RB-57F Canberra while conducting very high altitude reconnaissance in and around Soviet controlled countries. Still flying after its first test flight in July 1953, the Canberra's life span rivals that of the iconic B-52. C J had to contend with the physiology of high altitude flight, the flying characteristics of the plane at extreme altitude as well as some of the diplomatic difficulties of Cold War operations. As CJ says "You don't always have control over the outcome of a mission or your own future."
About C J Stephens
C J is a native of Sonoma County and has been flying for over 60 years. C J is an instructor in multi & single engine aircraft and gliders. He has provided training for in-flight emergencies and formation flying, has trained many of the Reno Air Racers, and is the Safety Pilot and Race Starter for the Sport Class at Reno. C J also raced Hawker Sea Furys and P-51 Mustangs in Unlimited air racing venues. He served as chief test pilot for the CAFE Foundation where he evaluated the performance of more than 22 types of experimental aircraft. He has been involved with the EAA since 1980 and has performed more than 20 first flights for home builders. C J's storied USAF career included 232 combat missions in Vietnam and about 3,000 hours in F-4 Phantoms. C J 's. combat awards include the Distinguished Flying Cross and 12 Air Medals. He also holds USAF Navigator and Bombardier wings.
Date
Wednesday, April 19, 2017
7:00 pm - 9:00 pm
LOCATION
3200 N. Laughlin Road
COST
Free for Members and Guests

UPCOMING EVENTS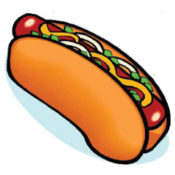 Thursday, May 3, 2018
Have a Hot Dog Lunch among the aircraft in our collection!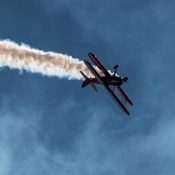 Wednesday, May 16, 2018
Help Plan the 2018 Wings Over Wine Country Air Show!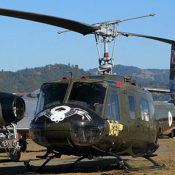 Wednesday, May 16, 2018
Robert Nance on Army Huey Pilot Training and Missions: It's Not If, It's When