Honoring World War II and Korean War Vets: Meet Our Veterans
Memorial Day Weekend Event for the whole family: Saturday May 27
Meet the Veterans of the Greatest Generation Who Fought and Won World War II.
Come meet and mingle with over 40 local war Veterans and see an array of vintage aircraft on display at this special Memorial Day weekend event.  Free admission, two  "Open Cockpit" aircraft, and hot dogs & beverages for purchase make this a great family activity for the long weekend.
This half-day event the Saturday before Memorial Day is organized by volunteers at the Pacific Coast Air Museum (PCAM). It honors our Veterans and provides a forum for all to learn about the Veteran's experience. Many of them have already been interviewed for the Library of Congress archives by the PCAM Oral History Team for the benefit of the PCAM Education Program.
Talk With the Heroes of the '40s and '50s
Learn about the events that shaped our world from the men and women who were there.
This day is specially designed for young people to meet with some of America's Greatest Generation, our Veterans of World War II and the Korean War, as we honor their service to our country on Memorial Day weekend, 2017.
Students and anyone else will be able to speak directly with local Veterans who were pilots, navigators, paratroopers, ship's gunners, bomber gunners, decipher specialists, WAVES, radio operators, and map interpreters.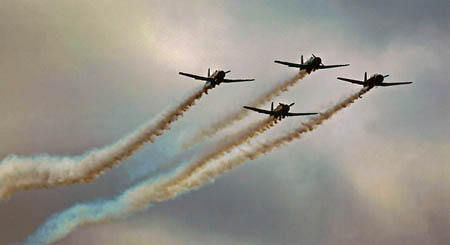 Some of them flew P-47 Thunderbolts, P-51 Mustangs, B-17 Flying Fortresses, P-38 Lightnings, TBM Avengers, B-24 Liberators, and T-33 Shooting Stars. We are adding more all the time.
Lots to Do and See
Close displays of vintage aircraft and Jeeps from both World War II and the Korean War. Planes on display include: P-40 Warhawk, T-6 Texan, PT-13 Stearman, A-26 Invader, P-51 Mustang, RF-86 Sabre, and T-33 Shooting Star. The A-26 and the T-33 will be "Open Cockpit".

P-51 fly-by.

Four- plane "Missing man" formation flight donated and performed by the Bay Bombers Squadron Formation Team (http://baybombersquadron.com/events). Flight demos may be delayed or cancelled depending upon the weather.

Raffle with great prizes! See below!

Welcome remarks will be made by Windsor Mayor Deborah Fudge

Event announcer: Ted Williams, Director of local radio stations KZST, KJZY, KWVF and KBBL

Big Band/Swing Music and Dancing... bring your dancing shoes to join in the fun!

Sonoma County Calendar Girls mixing, mingling, and photo ops.

There will be kids' activities for the younger visitors.

Helico Sonoma, a local helicopter charter, tour and flight training company, will be on hand selling helicopter rides (http://www.helicosonoma.com/).

North Coast Aviation, a local aviation school and airplane rental company, will be selling rides in fixed-wing aircraft

Food  & beverage will be available for purchase, so plan on having lunch!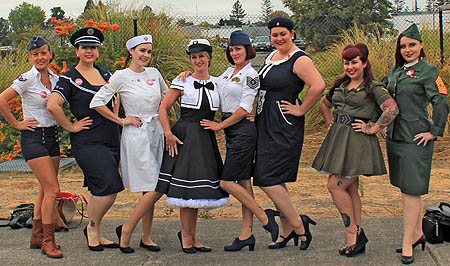 Raffle
We're raffling off some great prizes to benefit the Pacific Coast Air Museum and its educational programs. Prizes include:
Grand Prize: A one-hour flight over Sonoma County and San Francisco Bay in a classic 1954 Cessna 195 Businessliner.

Gift Certificates to the Union Hotel Restaurant

Books

Other prizes to be announced
For Your Security
Backpacks, ice chests, dogs, and other animals are not allowed. Only guide dogs and certified companion animals are allowed.
Find Out More
Call our event hotline at 707-566-8380 if you have questions.
Volunteers Needed
We need people to help us prepare for this big event! You can help by driving the aircraft tugs to move our display aircraft, serving food, setting up, attending to parking, and many other important roles. Volunteering at PCAM events is fun and rewarding, and you get to meet interesting people and contribute to your community.
To volunteer, visit our volunteer signup system at SignUpGenius, a third-party website: https://goo.gl/WVpa84
See you Saturday May 27!
The Pacific Coast Air Museum looks forward to seeing you on Saturday May 27!
Call the event hotline 707-566-8380 if you have questions.
Founded in 1989, the Pacific Coast Air Museum is a nonprofit 501(c)(3) organization, Tax ID 68-0216262.
Some of the Veterans Who Will Attend
Rolland "Rollie" Barton, USAAC:  P-51 pilot, WWII
Richard "Dick" Dennis, USAAC: T-6 pilot, WWII
Lloyd Douglas, USAAC: B-17 pilot and POW, WWII
Darrel Shumard, USAAC: P-47 pilot and POW, WWII
Bob Trombetta, USAAC: P-47 pilot, WWII
Al Maggini, USAAC: B-17 navigator, WWII
Fred Bollinger, US Army: Radio operator, WWII
Marco Verbon, USN: Gunner on Cape San Juan ship torpedoed and sunk by Japanese, WWII
David "Dave" Robertson, US Naval Aviator: TBM Avenger on USS Bairoko, WWII
Phillip "Phil" MacSpadden, US Army: 460th Parachute Field Artillery Battalion, WWII, Korea and Vietnam War
Del Tiedeman, USAAC: C-47 transport pilot, WWII
Robert "Bob" Wilson, USAAC: B-17, B-29, T-6, PT-22, BT-13, c-47, T-9, AT-17 instructor, WWII
Lee Wildman, US Naval Aviator: R4D and R5D, WWII
Richard Root, USAAC: B-25 Mitchell gunner, WWII
Roland Rush, USAAC: radio officer who deciphered intercepted Morse code in Pacific, WWII
Joan Rush, USN: WAVE, recruiter and cartographer, WWII
David "Dave" White, USAF: F-86, F-89, F-94 pilot defending Goose Bay Labrador, Korean War
Edward "Eddie" St Germaine, USAAC: P-47 pilot, WWII
Earl O'Grady, USAAC: P-38 Ace, WWII
Maynard Kuljian, US Army: Signal Corps, WWII
David Redding, US Army: 1st and 3rd Army, WWII
Drury "Mac" McCall,  USMC: F4F Wildcat and F4U Corsair pilot, WWII
Ed Poe, USN: Higgins Boat Operator, WWII
William "Bill"Morris, US Naval Aviator: TBM Avenger, WWII
Jim Reed, USAF: T-33, T-39, C-119 pilot, Post-Korean War
Larry Scott, USAF: B-47, B-52, T-33, T-28 pilot, Korean War
Albert Mello, US Army Artillery: Served most of the war in the Pacific, including Battle of Okinawa, WWII
Larry Scott, USAF: B-47, B-52, T-33, T-28, Korean War
Mary "Peg"  Haapa, Red Cross: Assigned to B-17 crews in France, Germany, England, WWII
Paul Heisler, USAAC: B-24 Ball Gunner, POW, DFC, WWII
Rich  Alfonso, USN: Radioman aboard Atlantic and Pacific aircraft carriers, WWII
Elmo Fama, USAAC: B-17 Radio Operator & Waist Gunner, WWII
Paul Belanger, US 3rd Army: 224th Combat Engineers, Special Forces, WWII
Bob Scoffern, USN, 1st Marine Div: Navy Corpsman, Guadalcanal, WWII and Korea
Merl Tanner, US Navy Ground Forces: GoPac Unit, WWII
Bob Bissiri, USN: Carrier Aircraft, Navy Aviation Machinist Mate 3rd Class, WWII
Bob Wattenburger, US Naval Aviator, F6F Hellcats and F4U Corsairs, WWII and Korea
Ray Smith, US Naval Aviator, F9F Cougar, Korea
Don Clouston, US Army, Paratrooper with 101st Airborne on D-Day, WWII and Korea
William Brandt, US Army Combat Engineering, WWII and Korea
Date
Saturday, May 27, 2017
10:00 am - 2:00 pm
LOCATION
One Air Museum Way
COST
No Charge

UPCOMING EVENTS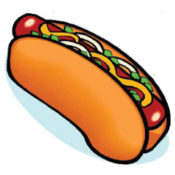 Thursday, June 7, 2018
Have a Hot Dog Lunch among the aircraft in our collection!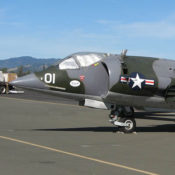 Saturday, June 16, 2018 - Sunday, June 17, 2018
Get a close look inside this famous VSTOL jump jet!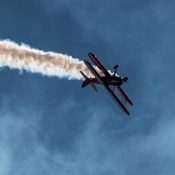 Wednesday, June 20, 2018
Help Plan the 2018 Wings Over Wine Country Air Show!